607 words
6K on disk
January 1988
Macworld Expo 1988 San Francisco
Trade Show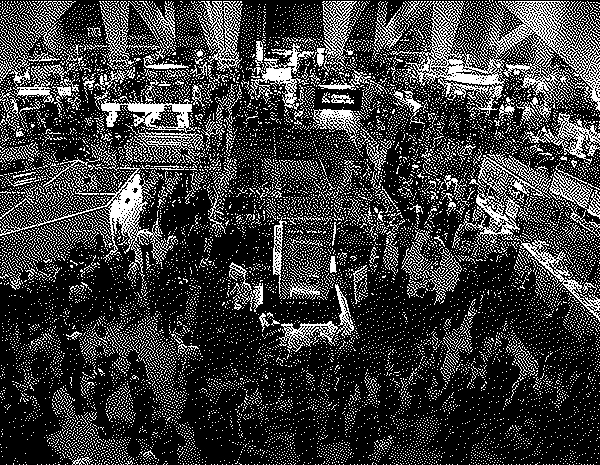 Dates: January 15-17 1988
Cost: $15 Exhibits
Exhibitors: 350
Attendees: 45,000
Keynote
Day 1 – John Sculley (Chairman & CEO, Apple): The Journey Continues…
In his keynote speech, Sculley stressed Apple's commitment to networking and connectivity advancements, and introduced the zippy Laserwriter II family, with up to 8 pages per minute of printing power.
Day 2 – Gary Tooker (SEVP & COO, Motorola): At the Core of Apple
Day 2 РJean-Louis Gass̩e (SVP R&D, Apple): How Can We Keep Japan Inc. From Eating Our Sushi?
Day 3 – Alan C. Kay (Fellow, Apple): Predicting The Future By Inventing It
Themes
Programs re-written to take advantage of the Mac II's color screen
NuBus cards emerge as a new market

The arrival of a slew of Mac II boards ushered in a new age of color desktop publishing and desktop video production.

HyperCard stacks as a software commodity
Quotes
The Macintosh emerged as a legitimate corporate computer at the Macworld Expo in San Francisco, but i hasn't forgotten its roots.
Apple Product Introductions
Apple subsidiary Claris demonstrated the programs it inherited from the mothership, including MacPaint 2.0, MacDraw, MacProject and MacWrite.
Word Processing
Desktop Publishing
Spreadsheets
WingZ, a legendary spreadsheet application, was introduced by Smart Software. Matching Excel's $400 price, WingZ aimed to deliver next-generation features, such as 3D graphing as well as word-processing and database features. Although reaching back as far as the Mac 512K, it was one of many apps at Macworld this year that fully exploited the new color capabilities and larger screen of the Mac II.
Graphics
Adobe introduced a color version of Illustrator (Illustrator 88) and also gave the first public demonstration of Display PostScript. (The latter technology, of course, would never find a home on the Mac, ending up instead as the display layer of NextStep.)
Claris' MacPaint 2.0 also demonstrated color capabilities.
Silicon Beach Software introduced Digital Darkroom for $200. A mix of object-oriented and pixel-based tools, it was designed primarily with greyscale (not color) editing in mind.
Aldus was showing off the color capabilities of PageMaker 3 and Freehand.
PixelPaint, mentioned below in the NuBus section, was one of the few color-enabled software packages actually shipping at the time of the Expo.
Peripherals: NuBus Video Boards
SuperMac introduced their 24-bit NuBus video card, the Spectrum•24. RasterOps and SuperMac had been early leaders in the so-called "True Color" market, temporarily eclipsing the previous king of external video, Radius. The Spectrum•24 set you back $3,000, but included a copy of PixelPaint in the bargain. RasterOps' Colorboard would be marketed both by that company as well as Jasmine, a large hard drive vendor in those days.
The subtlety of shading that can be done with that many colors exceeds the eye's ability differentiate among hues. The 24-bit boards from SuperMac and RasterOps generated enthusiasm from everyone passing by their booths.
Productivity
Games
An actor dressed up as a 'dumple' from Crystal Quest walked the aisles to promote Casady & Greene's game.
Utilities
Attendees noted PowerSTation and DiskTop as good Finder replacements.
Pyro! garnered a lot of notice as one of the first graphical screen savers. I remember this showing up on university computers around the same time.
Suitcase and Font/DA Juggler were popular Font/DA Mover replacements.
Peripherals
DataDesk was selling their Extended Keyboard for ADB systems, featuring 15 function keys. I remember using one of these on a professor's Mac SE at UC Berkeley — it had a lot of extra keys, and was I think cheaper than Apple's Extended Keyboard, but also had a real PC Clone feel.
Networking
User Groups