380 words
4K on disk
June 1987
MacTable
Furniture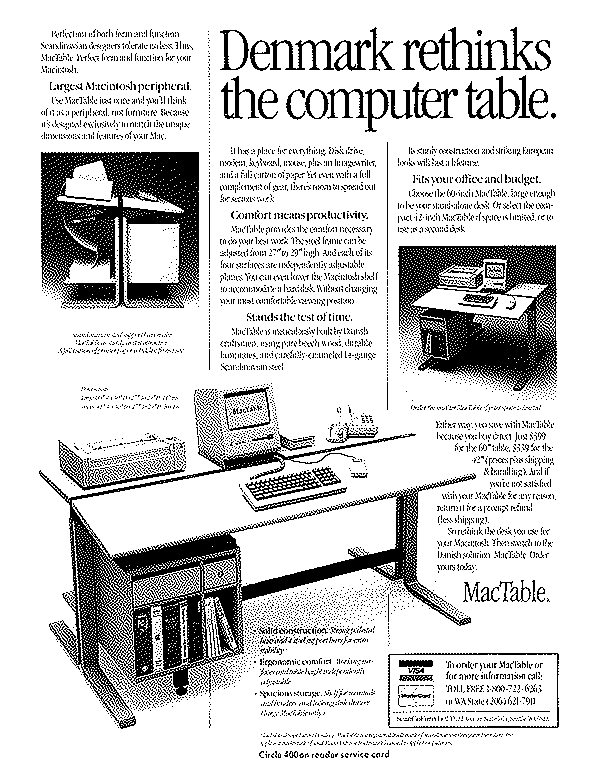 But the Macintosh itself was changing in 1987: the introduction of the Mac II broke with the all-in-one design which had characterized the computer since its unveiling in 1984. The new, modular architecture (and its multiple open slots) was expressed in a much larger case design — almost IBM PC-like in its dimensions. As a custom piece of furniture designed for Apple's flagship, the MacTable would have to change along with it. Thus in September of that year Scandinavian Computer Furniture, Inc. announced that Denmark had re-thought the computer table — again:
Instead of the original, one-size-fits-all cutout for the original Mac lineup, the MacTable delivered a series of variously-sized surfaces that could accommodate anything from a 128k to a fully-loaded Mac II, all the while providing the variable tilt motion the original table was known for. Now,the angle of separate desktop cases, two-page displays, and other items could be adjusted the same way the original Mac could.
The company also proudly announced that they were even switching the color of the desktop laminate, from beige to "Platinum Gray, same as the new Macintosh line." (This may be the closest that Frog Design's "Snow White" design aesthetic ever came to expression in office furniture.)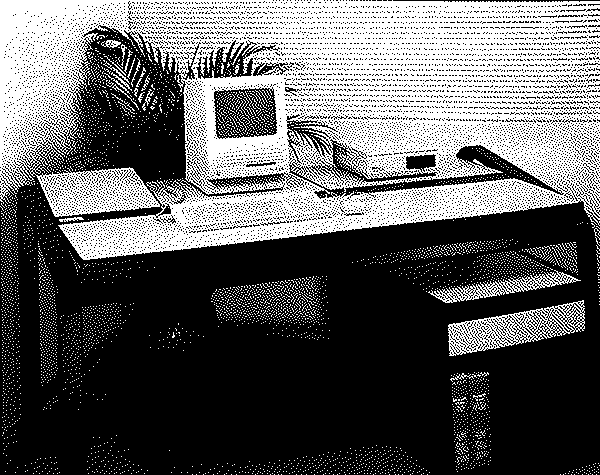 MacWeek's June 1987 "Snapshot" on the revised MacTable is the one of the earliest appearances of the new version in the press. At this point the company is described as ScanCoFurn, operating out of a Redmond, Washington address. The table itself cost $269, while the laser printer cabinet went for $129. The photo (shown above) depicts a relatively rare variant of the basic table, in black and white, which bore a higher price tag of $335 and a later ship date of late July. (I haven't ever seen this type in the wild, and it was never mentioned in advertisements, so it's hard to know if they're very rare or were ever even produced.) The black-painted wood in the picture above is more in line with certain 1980s aesthetics, but loses a bit of the charm of the natural-beechwood finish that most people are familiar with in a MacTable.
References:
chicago-fullnote-bibliography
author
asc
no
1
title
275